Göran Forsling on MusicWeb about P.-B. CD-set
http://www.musicweb-international.com/classrev/2019/Jun/Peterson-Berger_finds_CAP21910.htm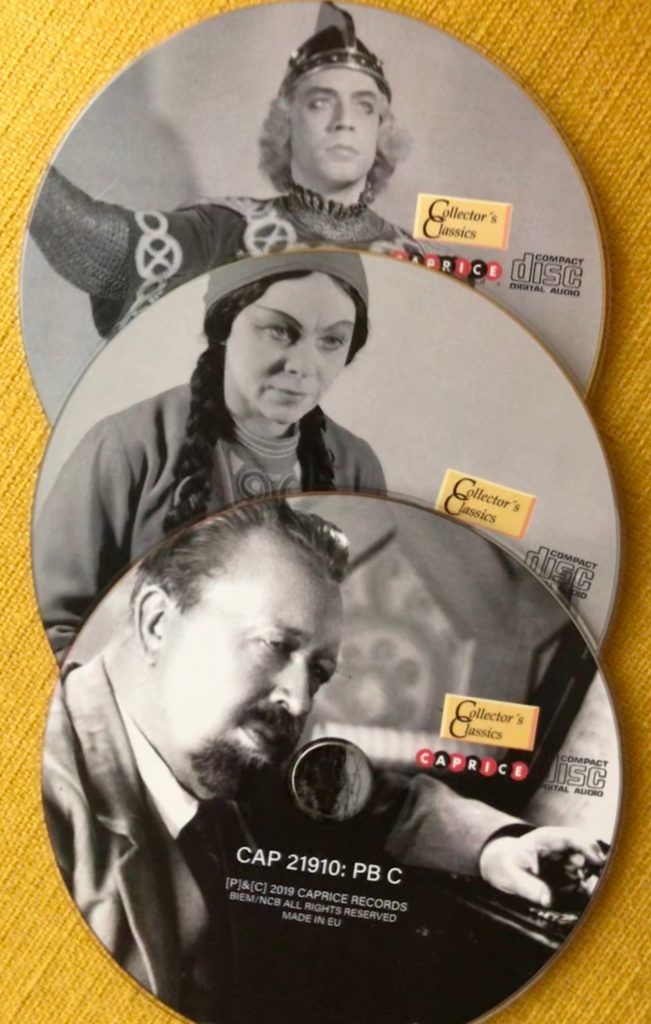 Wilhelm PETERSON-BERGER (1867-1942) Music Finds in his Secret Cabinetrec. 1904-1974
CAPRICE CAP21910 [3 CDs: 229:07]
Wilhelm Peterson-Berger was one of the most prominent Swedish composers around the previous turn of the century, together with Hugo Alfvén and Wilhelm Stenhammar. He was also the most popular of the three through, primarily, his piano pieces, of which the three sets of Frösöblomster (Flowers of Frösö) could be regarded as the quintessence of "Swedishness". They are still well known to many Swedes, even those not normally interested in art music. But also his choral music and solo songs have endeared him to the Swedish public. But he was far from only a miniaturist: He composed five symphonies and a violin concerto and five operas to his own librettos, of which Arnljot is regarded as a kind of national opera. Here he tries to transplant the Wagnerian music drama to Swedish. Besides his composing P-B also for a couple of years worked as stage manager at the Royal Stockholm Opera, and was for many years a dreaded music critic, whose vitriolic pen offended many musicians and composer colleagues and gave him many enemies in Swedish music life.
On the present CD-set Carl-Gunnar Åhlén* has collected the first two acts of Arnljot from broadcast recordings from Swedish Radio in 1942. They were made on steel-tapes, a method that got out of fashion after the war. The tapes were put aside and many were thrown away, but these two acts were miraculously saved and found much later. Åhlén has done a great job to process the original masters and create an invaluable document of one of the most important works in the Swedish history of opera. The sound still needs some indulgence to appreciate the performance fully, but no one with some experience of historical recordings should find this unattractive. And there is a special treat to hear a line-up of great Swedish singers from this period, otherwise little or sparsely documented on records. There is Brita Ewert's portrait of Unn, mother of Arnljot, and Irma Björck's Gunhild – both singers incidentally granted long lives, reaching ages 96 and 95 respectively. The lovely Helga Görlin as the Sami girl Vaino, also lived until she was 93. The magnificent bass Leon Björker is another of international stature – or should be, he never appeared abroad, except for a couple of guest appearances as member of the Stockholm Royal Opera ensemble. Björker's warm sonorous voice can be heard on a Bluebell disc (review), hopefully still available.
But head and shoulders above the rest of the ensemble stands the great Sigurd Björling in the title role. His entrance solo, Alltjämt de mäktiga fjäll sig välva (CD 1 tr. 10) is unfortunately rather distantly recorded initially, but he soon stands out as the great Arnljot he obviously was, and we hear that again and again throughout the performance. He recorded his entrance song commercially at about the same time and it is a classic when it comes to recordings of Swedish opera arias. His declamation is Wagnerian – and he was a great Wotan. He sang the role in Bayreuth in 1951 under Karajan, and the third act was recorded by EMI (review). The 1942 production was mounted as an homage to the composer on his 75th birthday and it was Sigurd Björling's debut in the role. He went on to sing it for another 18 years, the last three times in May 1960 at the 50-year-anniversary of the premiere. This was also the last times Arnljot was staged complete and one of the performances was broadcast and later issued on vinyl by Caprice Records. It is today available as download with a comprehensive digital booklet and complete libretto. Björling, who made his debut at the Royal Opera in 1936, had a long career there but also as guest internationally. He was still singing in Stockholm in the early 1970s when he was in his mid-60s. I heard him as Wotan and Der Wanderer and by then most of the nuances were gone but the voice was still monumental.
Arnljot is of course the main reason for this issue, but there are also other tracks of great interest, connected with the opera. Two of these are the declamations by the actress Maria Schildknecht-Wahlgren that open each act: Arnljot's opening song and Vaino's first song. The connection is interesting: Peterson-Berger had worked on the Arnljot idea since the late 1880s when he read Björnson's epic cycle Arnljot Gelline and step by step it developed into a libretto – or maybe a play – which was finished and issued in 1906. The young actress Maria Schildknecht read it and made a tour the following spring reading from the play with P-B taking part as pianist playing the parts of the opera-to-be that were then sketched. When Carl-Gunnar Åhlén, after the find of the metal tapes mentioned above, prepared a reprise broadcast in 1974 he contacted Maria Schildknecht-Wahlgren in Gothenburg and asked her to record for the broadcast some of the texts she had performed back in 1907. She was then 93 and recited from memory these two numbers!
We also get some early exponents of the title role and of the Sami girl Vaino. Legendary John Forsell, baritone singer, opera manager and teacher, sings Arnljot's opening song with piano, recorded in 1912. It's a lyrical reading, but still with pathos and intensity. Einar Larson in 1928 is also closer to Forsell than to Björling but it is a worthy reading even so. Karin Rydqvist sings Vaino's two songs in recordings made privately when she was approaching 70, and the years have taken their toll on her voice but it is still a fascinating document. She was Vaino at the Royal Opera 1922-1936. Ella Pihl was Vaino at Frösön, where the libretto is performed as a spoken play since 1935 – the first five years with P-B as stage director – and Ella took the role the first four years. Recorded in 1945 she had still preserved a good deal of her voice. The historical value is great. And so are the orchestral fragments from the second act of the opera conducted by Armas Järnefelt – Sibelius's brother-in-law who was for many years principal conductor of the Royal Swedish Opera. Peterson-Berger and Järnefelt were not the best of friends, especially after a law-suit where Järnefelt accused P-B of libel.
The third disc focuses on Peterson-Berger in various capacities. We hear him reciting the opening of Arnljot's entrance song, from the soundtrack of the film Frösöblomster, recorded less than four months before P-B's demise. We hear him as lecturer in radio programmes, also recorded late in life. He is closely recorded and we can hear him turning the pages of the manuscripts. We hear him as improvising pianist recorded in 1913 on phonograph cylinders by Karl Tirén. He has studied the Sami culture closely and it was through him P-B learnt some Sami yoiks, which he used as themes in his third symphony, titled Same-Ätnam. The background noise is very prominent and partly almost impenetrable, but still fascinating. P-B was a fluent pianist and in the improvisation from 28 March 1913 (CD 3 tr. 6) he is in really playful mood. The two piano pieces from 1897, recorded in 1928 (CD 3 tr. 10-11) give a better picture of his capacity. These are his only studio recordings as pianist. He then accompanies Linda Oljelund in two of his songs on a private recording made in 1935 or later. The singer, then in her fifties, isn't very fresh and the sound comes and goes. However, there is an interesting connection between the singer and Arnljot, insofar as she, born Linda Öberg, from 1915 until 1935 lived with author Ivan Oljelund, who later on commission from the Peterson-Berger Society, helped conductor and arranger Stig Rybrant to revise both music and libretto of Arnljot in the late 1940s and the result of that cooperation was the version that was recorded and later issued on Caprice Records as mentioned above. Carl-Gunnar Åhlén is very critical towards Rybrant's revision of P-B's scoring and calls it a "musical clear-felled area" where there are "no mysterious and fanciful shadows, everything is illuminated by a trivial and everyday light". He is satisfied that when Swedish EMI in 1973 recorded eight scenes from the opera on vinyl they employed the composer's original scoring. The recording has been issued on CD and reviewed on MusicWeb, thrice, the third quite recently (see review, review, review). Finally the section on P-B as pianist is rounded off with two snippets from the film Frösöblomster, mentioned earlier, where P-B plays fragments from Sommarsång and Hälsning. It is an old man playing and his rubatos may be more excessive than he played them when he was younger, but there is no denying that they are lovingly moulded.
Peterson-Berger as conductor has had generally bad press, but he had the odds against him. His often sardonic reviews of colleagues and musicians were of course not appreciated and when they had an opportunity to pay back they did it with a vengeance. But when he worked with the students of the Academy of Music, as on the short excerpts from rehearsals in 1936, there was no such animosity and the atmosphere seems quite relaxed.
And so we arrive to the final section: P-B's favourite singers. Baritone Josef Herou sings from the third act of Arnljot, and even without knowing that he initially was a blacksmith, one feels that here is a strong man with a mighty voice, which also is confirmed by photographs. Liva Edström-Järnefelt was a leading mezzo-soprano at the Royal Opera for almost 30 years. She is heard here when still in her late 20s and her voice is young fresh. No wonder P-B appreciated her. Later, when she married the conductor Armas Järnefelt, P-B was probably less enthusiastic. The other great mezzo-soprano of the time, Matilda Jungstedt, was slightly older and not as loyal to the Royal Opera – she also appeared in Gothenburg and the other Scandinavian countries. As an artist she was obviously very conscientious – the two P-B songs were recorded in February 1904, but she rerecorded them in the autumn of the same year. There are small differences – in both cases though the readings have deepened. Tenor David Stockman was one of the great idols at the Royal Opera for 35 years, singing almost 100 roles. He sang Tristan in P-B's production 1909 and also sang Sigurd in Arnljot, Lars in Domedagsprofeterna and in 1927 Adils in Adils och Elisiv. On this disc he sings Jungfrun under lind in a recording from 1908 with such beautiful tone and exquisite phrasing, and Irmelin Rose, probably just as well but the copy is worn – "loved to pieces" as Åhlén expresses it.
This set should be a must for all lovers of Wilhelm Peterson-Berger's music, the recordings are rare and perspective building and the 74-page book (booklet isn't an adequate word) filled with fascinating information, a fraction of which I have touched on in this review. It is also lavishly illustrated with rare photos. In fact the only hang-up for non-Scandinavian readers is the lack of English translations. But that shouldn't deter international readers from acquiring this unique insight in the secret cabinet of one of the great Swedish composers of a century ago. Thank you, Carl-Gunnar Åhlén, for investigating the cabinet!
* Carl-Gunnar Åhlén, born September 1938, is a Swedish music journalist and musicologist. For almost 50 years he has issued old recordings in his own transfers from unique private sources and radio archives. On Caprice Records he has his own series "Collector's Classics" but a lot has also been issued on other labels. Altogether they represent a survey of musical life in Sweden during times gone by that is, and will remain, unsurpassable.
Göran Forsling

C